Porfi Beach Hotel - Nikiti (Sithonia)
40.227802858361

,

23.632701158524
Nikiti (Sithonia)

,

Greece

|
95US$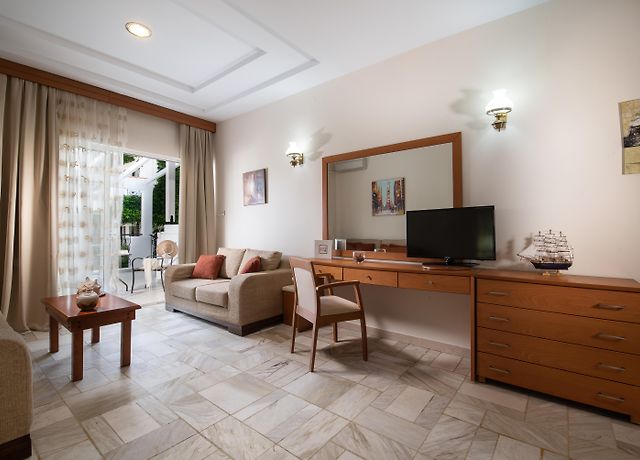 Highlights
Hotel Awards
According to guest reviews, the hotel has been rated as 
Use Badge
Address
Nikiti
,
Nikiti (Sithonia)
,
Greece
,
63088
, Macedonia
Overview
Set within a 10-minute drive from Agios Georgios Church, the comfortable Porfi Beach Hotel Nikiti features a free parking lot, a tennis court and an outdoor swimming pool. This hotel offers a view over the Aegean Sea.
Location
Guests will also appreciate proximity to Port of Nikiti, which is within 1.8 miles away. Guests can get to Nikiti city center, which is 1.9 miles away. The private beach is 500 feet away. A short driving distance to Nikiti Beach is a perk for guests staying at Porfi Beach Hotel.
Rooms
Comprising a balcony and a seating area, the rooms at this accommodation are equipped with TV set. Some spacious rooms have bright views of the mountain. Bathrooms include a separate toilet and a shower along with comforts like hair dryers and towels.
Eat & Drink
This comfortable hotel serves an American breakfast every morning. The à la carte restaurant serves international dishes. The traditional snack bar features billiards and lounge.
Internet
Wireless internet is available in the entire hotel for free.
Guest Parking
Public parking is possible at a location nearby for free.
The personnel at the hotel speaks English, German, Polish, Greek, Russian, Bulgarian, Croatian, Slovenian, Serbian.
Year renovated:   2009.  Number of rooms:   165.
Facilities
Most popular facilities
Food/ Drinks
Bar/ Lounge area
Restaurant
General
Free Wi-Fi
Parking
24-hour services
Food/ Drinks
Shuttle
Swimming pool
Laundry
Services
Airport shuttle
Room service
Car rental
Laundry
Dry cleaning
Medical facilities service
Stores/Commercial services
Dining
Continental breakfast
Restaurant
Bar/ Lounge area
Room features
Air conditioning
Sitting area
Balcony
Tea and coffee facilities
Media
Flat-screen TV
Telephone
AM/FM alarm clock
Good to know
Check-in
from 15:00-23:00
FREE
Check-out
from 07:00-11:00
FREE
Children & extra beds
There are no extra beds provided in a room. 
Pets
Pets are not allowed.
License number
ΜΗ.Τ.Ε09.38.Κ.01.3Α.03.03113.0.0
Rooms and availability



Location
Nikiti
,
Nikiti (Sithonia)
,
Greece
,
63088
, Macedonia
City landmarks
Nearby
Restaurants
Church
Sofronios Basilica
2.0 mi
Ι.Ν. Μετ. του Σωτήρος & Αγ. Βασιλείου
1.7 mi
Nikiti 630 88
Folklore Museum Of Nikiti
2.0 mi
Historical and Folklore Museum of Nikiti
2.0 mi
Agios Georgios Church
2.0 mi
Basilica of Sofronios
2.8 mi
Getting around
Airports
Thessaloniki

(SKG)
52.4 mi
You can book a shuttle, once your reservation is complete.
Reviews
missing

We liked the food, the employees, and the nice beaches in the close neighborhood.

We didn't like the climate in the 2nd floor, as the cold air stayed in the 1st one. And we didn't like the habit of other tourists to occupy chairs in the early morning and leaving them unused over most of the day.

missing

Good location, the hotel is near the sea.

We think that you should to organize wifi-zone in the hotel territory. And the assigment to the internet shouldn't be with the cards, it's uncomfortable. We couldn't use the internet for one week,because there was not cards.

missing

The hotel was very well situated to discover Sinthonia. The swimming pool is worth staying all day (big, clean and with a nice garden surrounding it). The beach is also next to the swimming pool (with a pure and clean water). The food is good and varies each day and staff is nice and welcoming. The rates are ok for drinks and lunch which enable a family with 3 children to stay in good budget condition !

missing

There was a very bad smell in the room!!!! Old furniture and bathroom. The personal was unhelpfull.

missing

I liked the calmness and the peaceful nature and atmosphere in there.

The pressure of the hot water was very low!

missing

The friendly and helpful staff really made me feel at home, especially the two managers responsible for breakfast, lunch and dinner.

A bit far off from major cities and the beach could be cleaner.

missing

Having stayed there before we knew what to expect. The rooms are very nice, though not elegant...the grounds are wonderful, flowers and trees, beautiful swimming pool area, easy access to sandy beach.

ants in the room, but the staff took care of it quickly.

missing

close to the sea and beach, pool, ok food and service

pool wasn't clean at all... after 2 days we didn't wanted to go into pool... it's cool hotel, it could be really good but it need to be repeared, it's about time...

missing

Swimming pool in shade of pines.

Their scheme for beach towels reminds me of my childhood behind the iron curtain. If you pay 6 Euros for chairs and umbrella on thier beach you will get towels but if you want to go to the pool or other beaches no towels for you. I also did not like that there was a charge for Internet and it was not wireless.

missing

Wonderfull garden, the pool bar, the food was excellent, helpful staff

Booking home announced the hotel as offering internet in all rooms which was not true.

missing

the surrounding and the style of arrangement,specially the choice of vegetations and fountains

missing

Beautiful green surrounding, excellent food, calm and peaceful atmosphere

missing

Very large complex, big rooms, pleasant cleaning staff.

There was no hot water at all due to lack of pressure. Very unpleasant reception and workers that came after two days to repair and agreed that there is nothing to do. Overall maybe nice hotel 10 years ago but now not to recomend due to poor facility maintenance, pool and beach hygiene. Dangerous wooden path on the beach with nails! Not for children!

missing

Not sure what the non superior room looks like but the superior room isn't very superior. It was clean but for the price you didn't get much really. The beach is nice and the pool is too but there are only around 10 beds around the pool and so it is very difficult to get a space there. You do need a car if you stay here as there is only one restaurant that you can really walk to. Felt that the description on the Booked.net website is very misleading, as this is described as a 4 star hotel and it certainly is not.
FAQ
Which airport is the closest to Porfi Beach Hotel Nikiti?
Porfi Beach Hotel Nikiti is located 53 miles from Thessaloniki airport.
Does Porfi Beach Hotel Nikiti provide an airport shuttle?
Bus shuttle is one of the services offered by Porfi Beach Hotel Nikiti. Please inform the hotel staff about your estimated arrival time.
Can I have breakfast at Porfi Beach?
Yes, an buffet breakfast is available for guests at Porfi Beach.
What is the earliest I can check-in at Porfi Beach Hotel Nikiti?
At Porfi Beach Hotel Nikiti you can check in from 3 PM till 11 PM on your day of arrival.
Does Porfi Beach offer facilities for guests with children?
Yes, the guests of Porfi Beach can take advantage of a playroom, board games and a play area.
How far is Porfi Beach Hotel from the city center?
The city center is located 1.9 miles away from Porfi Beach Hotel.
Are there any cleaning services provided at Porfi Beach Hotel?
Yes, Porfi Beach Hotel provides dry cleaning service and room service.
Is there Internet connection at Porfi Beach Hotel Nikiti?
Yes, at Porfi Beach Hotel Nikiti guests can use Wi Fi throughout the property.
What landmarks can I find in vicinity of Porfi Beach Hotel?
Agios Georgios Church is worth visiting, plus it is set within 2 miles away from Porfi Beach Hotel.
Is the staff at Porfi Beach Hotel multilingual?
Yes, the staff of Porfi Beach Hotel speaks Croatian, Slovenian, English, German and Bulgarian.
How can I spend my leisure time at Porfi Beach Hotel Nikiti?
There are a tennis court and a bar provided at Porfi Beach Hotel Nikiti.
How much does it cost to stay at Porfi Beach Hotel?
The price for a room in Porfi Beach Hotel starts at €125.